« Welcome to Star School »
Editions Didier – A book written by Michaela Morgan. 
---
The book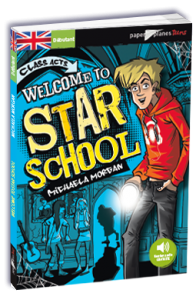 On the front cover, we can see three pupils and a person in front of the door. He's wearing a cloak.
MT
There is a photo of two young pupils in a room of a castle.
They are frightened by a shade and the rumours of a mysterious person who is at school. In the foreground we can see a pupil  with a flashlight.
EG
---
The story
Level A1 -> A2
The story probably takes places in an English school in the XX century. There are six students, one headmaster, one teacher and a mysterious character. The pupils have their clothes stolen. Moreover Bruno has his biscuits stolen.
MT
The story is about several pupils who will live funny events and be scared.The story is about pupils who arrive in a new school. The story takes place in a school in England in modern times.
EG
The students'opinion
We appreciated this book because there is suspense and it is interesting.
MT
It is a very good book : the story is well told and there is a good suspense.
EG