« Deadly Jobs »
Editions Didier – A book written by Philippa Boston
---
The book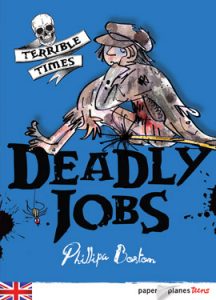 On the front cover, you can see a child with dirty clothes. The child looks sad.
The background is blue and the title is in the middle of the book.
AB
---
The story
Level A2 -> B1
The story takes place in London at Mile End in London in 1832. It is about a small skinny boy named Tom who is in a house with his sisters. Because they are fed in this house, Tom must work hard. His boss, Mr Barnes, gives him difficult and dangerous tasks: he has to clean the chimneys at Mile End.
The students'opinion
I like this book because we learn a lot about the Industrial Revolution in England. In this book, there are two parts: the first part is about the Industrial Revolution and the second part is about a little sad story :  a child who works hard and is exploited.
AB
Listen to AB's opinion :